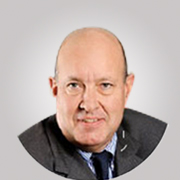 Deputy General Manager of Crédit Agricole S.A., Head of Retail Banking Subsidiaries
Chief Executive Officer of LCL since 2015
Member of the Executive Committee of Crédit Agricole S.A.
Biography
Michel Mathieu began his career at the Crédit Agricole Gard Regional Bank in 1983. In 1990, he was appointed Head of Commitments before joining the Midi Regional Bank as Deputy CEO in 1995. He was appointed CEO of the Gard Regional Bank in 1999 and then of the Midi Regional Bank in 2005. He became CEO of Languedoc Regional Bank, the new entity formed following the merger of the Gard and Midi Regional Banks, in 2007. He joined Crédit Agricole S.A. as Deputy Managing Director in charge of Group Central Functions in 2010, and subsequently also headed Asset Management and Insurance as of May 2015. In August 2015, he became Deputy Managing Director at Crédit Agricole SA in charge of Retail Banking Subsidiaries, LCL and International Retail Banking. He is a Director of Eurazeo and several Crédit Agricole group entities. He is also President of the Manège de Chaillot endowment fund.
Michel Mathieu holds a Doctorate in Corporate and business law.