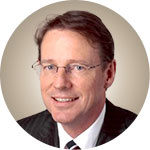 Chief Executive Officer of Caci
Brief biography
Henri Le Bihan has been Chief Executive Officer of Crédit Agricole Creditor Insurance and Chairman of La Médicale de France since 2008. He is second effective manager of Crédit Agricole Assurances.
He started his career at Mutuelles du Mans in 1981. In 1986, he became Technical Director, and then CEO of GMRA, a brokerage. In 1990, he founded Ingénierie Banque Assurance (IBA), a company specialised in designing consumer savings and loan insurance products. In 1997, he joined the Financial Services division of PPR group, where he developed the savings and insurance business. He became the Chief Executive Officer of Finaref Assurances and was appointed as a member of the Board and Deputy CEO of Finaref in 2004. In 2006, Henri Le Bihan joined the Insurance division of Predica as Executive Director in charge of the Technical division and Death & Disability Insurance. He also became Chief Executive Officer of La Médicale de France.
Henri Le Bihan is a graduate of Centre des Hautes Etudes d'Assurance.
Last update: October 2016