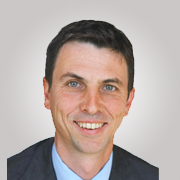 Head of Group Finance at Crédit Agricole S.A. since September 2022
Member of the Management Committee of Crédit Agricole S.A.
Biography
Paul Foubert began his career in 1996 in the Finance Division of Banque Indosuez. In 2002, he joined the Operations and Information Systems Division of Crédit Agricole Indosuez, taking responsibility for Calyon bonds and credit derivatives back offices in 2004. In 2005, he joined CACEIS, becoming in 2011 Chief Financial Officer and a member of the Executive Committee. In 2014, he was appointed Head of Management Control at Crédit Agricole S.A. In 2017, he was appointed Head of Group Financial Steering including Asset and Liability Management (ALM) starting from 2021. As part of his current functions, he is Director of Crédit Agricole Home Loan SFH and Predica.
Paul Foubert holds a Master's degree in Economics (Accounting and Financial Management) from Paris II University.