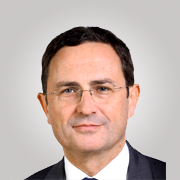 Deputy General Manager of Crédit Agricole CIB since January 2021
Head of Global Coverage & Investment Banking since 2019
Member of the Management Committee of Crédit Agricole S.A.
Biography
Didier Gaffinel began his career in 1988 at HSBC as an equity analyst in London. In 1989 he joined the Treasury Department of Elf Altochem, part of the Total group. In 1992 he moved on to the LBO department of Banque de Gestion Privée, a subsidiary of the Crédit Agricole Group, and in 1994 joined the Mergers & Acquisitions teams at the same entity. From 1998 to 2011 he held a number of positions at the Equity Capital Markets Department of the Crédit Agricole Indosuez investment bank (later Calyon and then Crédit Agricole CIB). He initially worked with French clients and then with large caps at European level. He was appointed Managing Director in 2005. In 2011 he became an Advisory Banker responsible for a portfolio of key accounts in France, mainly in the Luxury Goods and Retail sectors, and in late 2013 also took charge of Coverage for the Luxury Goods sector worldwide.
Didier Gaffinel is a graduate of Audencia and holds a DECF diploma in Accounting and Finance.